Like many General Hospital fans, I watch the show everyday in a blissful state of denial, never acknowledging the fact that Sonny and Jason are criminals. I find it easy to denounce Mac when he is urging Maxie to stay away from Spinelli, and I cheer for Diane whenever she keeps someone from the Corinthos organization from going to prison. However, as I watched the events of the week unfold, knowing that they were inevitably going to lead to Dante's shooting, my rose-colored glasses came off and I quickly snapped back to reality.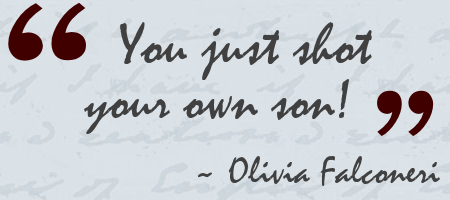 I found myself repulsed watching Jason standing in the church during Josslyn's christening, knowing that he had just signed Dante's death certificate without giving it a second thought. I was even repulsed by Spinelli, whose detective work set everything into motion. Moreover, I was sickened by his cavalier attitude regarding Dante's imminent demise, and the fact that he never showed an ounce of remorse or regret until Maxie told him that Lulu had found love. This was particularly unsettling considering the reservations he had about finding incriminating evidence against Claudia. Of course even Michael seems more concerned by the fact that he killed Claudia, than he does about being responsible for Dante's death, a man who saved Morgan, Sonny, and Lulu, three people he is supposed to care about. Then again if these heroic acts do not warrant a free pass with Sonny I suppose I shouldn't expect Michael to care about them either.









I still find it hard to fathom that in light of everything Dante has done to protect Sonny and his loved ones that it would be that easy for Sonny to shoot him. This act was purely vengeful. Shooting Dante served no purpose to Sonny because Dante's superiors already had all the evidence against him. I must admit though, that there is a certain irony to all of this, considering that for the past few years Sonny has been blaming himself for Michael's shooting, and now he has to live with the fact that he deliberately tried to kill his other son. Over the next few weeks it will be interesting to see how this realization affects Sonny, and what it will do to his perception of the world he lives in.

Sonny and Dante Face-off
[no copyright infringement intended]